Our research group was established in December 2014 at Heinrich-Heine-Universität Düsseldorf and we are supported by Fonds der Chemischen Industie since December 2015. The focus of our research is the structure determination of metalloproteins as well as the synthesis and characterization of artificial metalloenzymes. We are particularly interested in iron-sulfur proteins, their biosynthesis as well as exploring their catalytic potential.
December 2021 - our article on DNAzymes appeared in Nature just in time for christmas!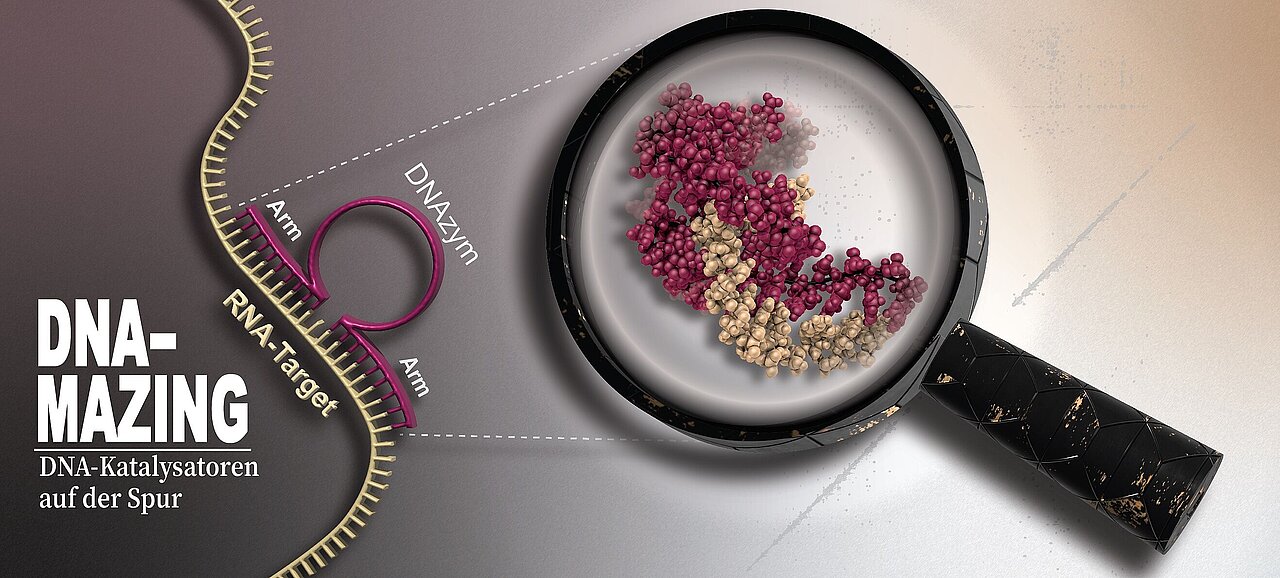 The 10–23 DNAzyme is one of the most prominent catalytically active DNA sequences. Its ability to cleave a wide range of RNA targets with high selectivity entails a substantial therapeutic and biotechnological potential. However, the high expectations have not yet been met, a fact that coincides with the lack of high-resolution and time-resolved information about its mode of action. Here we provide high-resolution NMR characterization of all apparent states of the prototypic 10–23 DNAzyme and present a comprehensive survey of the kinetics and dynamics of its catalytic function.
Here is the link to the article:
https://www.nature.com/articles/s41586-021-04225-4
February 2020 - Our article on the iron-sulfur protein Asp1 is now online!
The Schizosaccharomyces pombe Asp1 protein is a bifunctional kinase/pyrophosphatase that belongs to the highly conserved eukaryotic diphosphoinositol pentakisphosphate kinase PPIP5K/Vip1 family. The N-terminal Asp1 kinase domain generates specific high-energy inositol pyrophosphate (IPP) molecules, which are hydrolyzed by the C-terminal Asp1 pyrophosphatase domain. Thus, Asp1 activities regulate the intracellular level of a specific class of IPP molecules, which control a wide number of biological processes ranging from cell morphogenesis to chromosome transmission. We have shown for the first time that the pyrophosphatase domain of Asp1 binds an iron-sulfur cluster inside the cell. Furthermore, we have performed a mutagenesis study to identify the ligands that coordinate the cluster.
Here is the link to the article:
https://link.springer.com/article/10.1007/s00775-020-01840-w
July 2020 - Our review on DNAzymes is now online!
DNA molecules are capable of more than storing genetic information. Single-standed DNA molecules can form an unusual three-dimensional conformation and catalyze chemical reactions as DNA enzymes (DNAzymes). Our Review "Molecular Features and Metal Ions That Influence 10-23 DNAzyme Activity"published in the journal Molecules summarizes what we know about the structure and function of the 10-23 DNAzyme.
Here is the link to the article:
https://www.mdpi.com/1420-3049/25/13/3100
June 202020 - Our ydrogenase manuscript was published in Angewandte Chemie Intl. Ed.
Our article entitled "Caught in the Hinact: Crystal Structure and Spectroscopy Reveal a Sulfur Bound to the Active Site of an O2‐stable State of [FeFe] Hydrogenase" by Patricia Rodríguez-Maciá, Lisa M. Galle, Ragnar Bjornsson, Christian Lorent, Ingo Zebger, Yoshitaka Yoda, Stephen P. Cramer, Serena DeBeer, Ingrid Span und James A. Birrell was published in Angewandte Chemie Intl. Ed.
Thanks to our great collaborators from the US, Japan, and Mülheim!
Here is the link to the article:
https://onlinelibrary.wiley.com/doi/abs/10.1002/anie.202005208?af=R
March 2020 - We stay at home!
We have decided to work from home. To lift up the spirit we have put together a collection of our favorite crystals! We hope that we can return back to the lab and the synchrotron soon. You can reach us via e-mail if you have questions regarding our Master's course "Biomolecules and metal ions", our seminar "Metals in Biology" and topics for theses.
February 2020 -Follow us on twitter #SpanLabHHU
If you don't want to miss any news on our group or research follow us on twitter #SpanLabHHU
February 2020 -Our new paper on the crystallization of nucleic acids using the U1A protein as crystallization helper is now online!
November 2019 -We are looking for a PhD student for a DFG-funded project on [FeFe] hydrogenases and biological hydrogen production
The Group of Jun.-Prof. Dr. Ingrid Span at the Institut für Physikalische Biologie at Heinrich-Heine-Universität Düsseldorf is seeking to fill a
PhD position in structural biology and bioinorganic chemistry (f/m/d)
for a DFG-funded project within the DFG Priority Program 1927 "Iron-Sulfur for Life".
The successful candidate for this position will focus on studying the structure and molecular mechanisms of [FeFe] hydrogenases using X-ray crystallography in combination with biochemical and spectroscopic methods. For more information about our team and research please visit our homepage: www.ipb.hhu.de/unsere-teams/arbeitsgruppen/arbeitsgruppe-span.html.
Candidates should have a strong background in chemistry and biochemistry. Prior research experience in X-ray crystallography and metalloproteins is desirable but not required. Candidates should also have strong communication skills, the ability to conduct research, to prepare manuscripts and presentations independently, and the ability and willingness to work with graduate and undergraduate students in the laboratory.
Interested applicants who have (or are anticipated to have) a Master's degree in biochemistry, chemistry, biophysics or a closely related discipline should send a short cover letter describing their research interests and motivation for joining the lab, Curriculum vitae, and contact information of two referees to Jun.-Prof. Dr. Ingrid Span (). Please feel free to contact me for questions regarding the position or detailed information on the project.
Hannah and Ingrid attended in August the 19th International Conference on Biological Inorganic Chemistry (ICBIC-19).
Hannah presented a poster on "New variants of the protein U1A as helper for crystallization of nucleic acid complexes" and Ingrid gave a talk on "Sulfide protects [FeFe] hydrogenases from oxygen".
It was a great meeting and the location was spectacular! (Thanks to Rebeca Castillo for taking the picture.)
July 2019 - Project within the priority programme "iron-sulfur for life" funded by the DFG!
The DFG has decided to fund our project "Correlation of three-dimensional and electronic structure of [FeFe] hydrogenases" in cooperation with the group of Dr. James Birrell in the Department Inorganic Spectroscopy at the Max-Planck-Institute for Chemical Energy Conversion in Mülheim.
More information on the priority programme Iron-sulfur for Life
June 2018 - Our Co-rubredoxin manuscript was published in Biological Chemistry!
Our article entitled "Spectroscopic characterization of the Co-substituted C-terminal domain of Rubredoxin-2" by Lisa Galle, George Cutsail III, Volker Nischwitz, Serena DeBeer und Ingrid Span was published in Biological Chemistry.
Here is the link to the article:
https://www.degruyter.com/view/j/bchm.2018.399.issue-7/hsz-2018-0142/hsz-2018-0142.xml
April 2018 - Happy Easter!
February 2018 - Our Asp1 publication is now available online!
Our fruitful collaboration with Ursula Fleig and coworkers has resulted in an article entitled "Asp1 bi-functional activity modulates spindle function via controlling cellular inositol pyrophosphate levels in Schizosaccharomyces pombe", which has been published this week.
Here is the link to the article:
http://mcb.asm.org/content/early/2018/02/08/MCB.00047-18.abstract
November 2017 - We have new microscopes for protein crystallography!
The first challenge in protein crystallography is to obtain good, large, and well-ordered crystals. Therefore, we acquired two new Zeiss microscopes that allow us to look at our crystals and take photos of them.
September 2017 - First beamtime at DESY!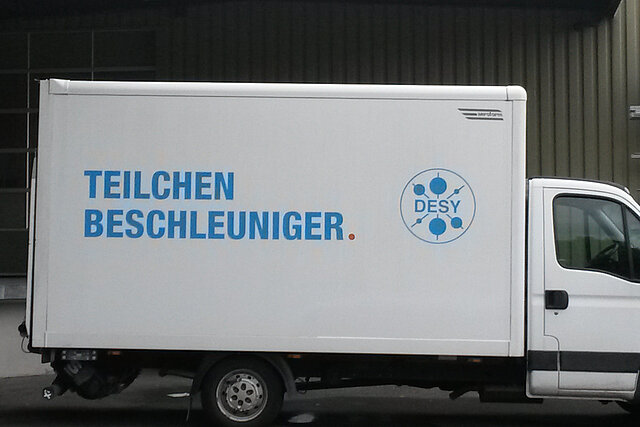 Our first trip to the Deutsches Elektronensynchrotron (DESY) in Hamburg was fun and productive - we solved our first crystal structure. We are looking forward to our next trip!
September 2017 - Steffen joins our lab!
Steffen joined our lab in September and he will be investigating the effects of cobalt on the biosynthesis of iron-sulfur clusters. Welcome!
July 2017 - Hannah was awarded the Hoechst PhD fellowship of the Aventis Foundation!
Hannah received the Hoechst PhD fellowship for her outstanding academic achievements. The fellowship is awarded once every year to one excellent student in cooperation with the Stiftung Stipendien-Fonds des Verbandes der Chemischen Industrie (VCI). Congratulations!
For more information:
Hannah Rosenbach erhält das Hoechst Doktorandenstipendium der Aventis Foundation
June 2017 - Our new Cary 60 UV/Vis Spektrophotometer has arrived!
Metalloproteins exhibit electronic transitions in the near UV and visible spectrum, thus, they are colored to the human eye. Our new Cary spectrophotometer enables us to quickly and easily investigate the environment of the metals.
April 2017 - The Glovebox is up and running!
Experiments with iron-containing proteins require a controlled redox environment, as iron ions are readily oxidized by air oxygen. In the oxidized form, iron becomes insoluble and precipitates out of solution. Thus, it is highly important to handle iron proteins in an anaerobic environment. Our anaerobic chamber from Coy Laboratories, also called glovebox, provides an oxygen-free atmosphere that contains 95% nitrogen gas and 5% hydrogen gas. We have an ÄKTA start system inside the glovebox that enables us to carry out anaerobic protein purification.
---
Information for prospective students
If you are interested in an internship, a Bachelor's or Master's Thesis please send an E-mail to